The Back Story: This is one of 10 wines that found its way to me so that I could become better acquainted with Oregon Wines thanks to Trellis Growing Partners. It is produced by Earl & Hilda Jones in Southern Oregon's Umpqua Valley. This couple has a a passion for bringing spanish varietals to America. I am 90% sure that I met Earl a few years ago when I was tasting wines for Eno Wine Room in the Intercontinental in Chicago, and he was showing his Alberino at the time… I remember loving it, so naturally I was excited to taste and share my thoughts on their Tempranillo for you.
THE FACTS: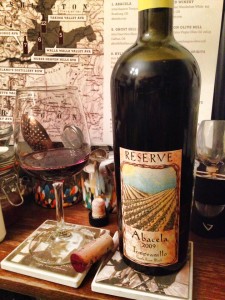 Winery: Abacela abacela.com
Wine: Reserve Tempranillo "South East Block"
Grape: Tempranillo
Region: Umpqua Valley AVA, Southern Oregon
Vintage: 2009
Harvest Date:  October 6,  2009
Bottling Date: August 11,  2011
Release Date: October 1, 2013
Cooperage: French (100%); 17% New, 79% 2-­yr old, 4% neutral oak
Alcohol: 13.9%
MY EXPERIENCE: 
Sight: Clear/ Transparent/ Shiny/ Rich Color Saturation/ Granite Core to Pink Rim/ No Gas or Sediment
Nose: No Faults/ Leads with: Dark Chocolate/ Black Cherry/ Dried Strawberry Followed by: Vanilla/Cinnamon/Leather/ Hibiscus Jam
Palate:  Medium Plus Body/ Medium Tannin/ Medium Acid/ Medium Plus Alcohol/Medium Plus Complexity/ High Quality Leads with: Jammy Cherries/ Strawberry Fruit Rollup/ Chocolate Powder Followed by: Gauloises Tobacco/ Saddle Leather/ Vanilla/ Hazelnut
Final Thoughts: This wine was truly a tasty treat that I feel is worth every penny of its suggested retail price of $50. I do think however right now it is young and gushingly fruit forward and it will only benefit from bottle aging another 5-10 years, at that point I think it can surely hold it's own next to its Spanish Brethren. I enjoyed this wine with some spicy black bean and veggie chili, and it made my palate smile, I could also see it as a perfect match for aged gouda and dark chocolate, or seared pork belly.  This was a very exciting off the beaten path treat for Oregon, and I highly recommend sharing it with your most adventurous friends.