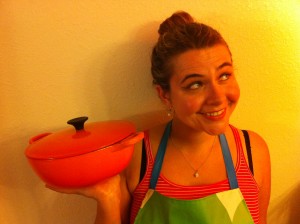 About: Meatballs are found in almost every culture, and can be dated back to 700 BC. They are, in essence, portable baby meatloafs. The purpose is to cut meat with other protein, starches, and veggies, to boost their nutrient value while stretching the meat. I have been a huge lover of meatballs forever — however, when my husband discovered his gluten allergy, I had to figure out how to adjust my recipe to accommodate.  This is my low carb, gluten-free version of a Southern Italian meatball.
Prep Time: 10 min
Cook Time: 30 min at 375 °
 Difficulty: Easy
Servings: 6 (4 balls each)
Calories per serving: 433
Carbs Per Serving: 2
Best Pairing: This really depends on what sauce you are serving the meatballs with… but assuming you are using a fresh tomato-based sauce, there is no better way to go than a rootie-tootie fresh and fruity red such as  Negroamaro from Puglia. The best part is that you can usually find one of  these at a wine store for that $10 sweet spot!
Tools Needed: 
Frying pan

Knife
Cutting board
Spatula
Bowl
Baking dish
Your hands
Latex gloves (Optional)
1 lb lean ground beef

1 lb ground pork
1 small onion finely diced
2 eggs
1 cup of shredded pecorino
1 cup of shredded parmesan
1/4 cup fresh Italian parsley
2 cloves of garlic minced
1/4 cup whole milk
2 tbl salt
1 tbl black pepper
1 tbl extra virgin olive oil
How To: 
Pre-heat your oven to 375°
Dice your onions and mince your garlic
Heat frying pan on medium heat with 1/3 of your olive oil in it
Add onions and cook til translucent, stirring often (about 3 min). Add your garlic for the last 30 secs to open up its aromatics
Remove to bowl
Roughly chop your parsley and add to bowl
Add the rest of the ingredients to bowl
Put on gloves (if you wish), I find with gloves it helps keep the meat from sticking to my hands, helping me form the perfect ball.
Knead all of the goods with your hands until fully integrated
Use the rest of your olive oil to coat your baking dish
Form the meat mixture into 1″ balls and place with a bit of space between them in the dish
Place in the oven and bake for 25-30 min (until tops are browned)
Serve with your favorite greens, & sauce.
For a great recipe for fresh sauce check out The Puglian Cookbook by Viktorija Todorovaska http://www.facebook.com/ThePuglianCookbook
Tip: If you do not eat all of these in one setting, you can keep them in the refrigerator for up to a week. I sometimes like them for lunch with a little spicy ketchup.
 I hope this dish hits the Spot!
As always, feel free to share, or ask me any questions you may have.