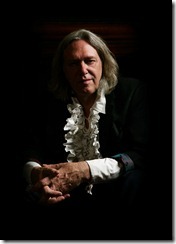 The Man:  A larger than life entrepreneur, and inventor of Martin Miller gin.  He started out in youth with enterprises like breeding hamsters and making a mail-order book called "Success with the Fairer Sex." He has had many more lucrative businesses since then, and in 1998 while sitting in a bar with his friends, sipping on sub-par gin and ,he hatched the plan to create the Best Gin Imaginable. He seems to be having some success at reaching his goal.
The Philosophy: Obsessive attention to every last detail is his secret ingredient. (A man after my own heart)
The Method:
Single Pot Still (His is named Angela)
Uses only central cuts (The Hearts)
Steeps his botanicals loosely (like loose tea, instead of a tea bag)

Juniper
Coriander
Angelica (Finland)
Lime Peel
Licorice Root
Cassia Bark
Florence Iris

Chilled & bottled in Iceland with "Living Water". (His description of why it was important to use mineral water over distilled water reminded me very much of the principals of terroir that we discuss with wine)
Check out his full story at: www.martinmillersgin.com or follow them on twitter @MartinMillerGin
Todays Cocktails & Tasting Notes:
Martin Miller Neat:
Glass: Rocks, or Snifter
2oz Martin Miller's Gin
Drop of water
Note: This is a wonderfully layered gin that is light and floral on the nose, and earthy and zesty on the pallet. It is a perfect sipping gin!
Pink Gin: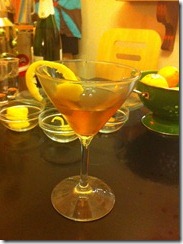 Glass: Chilled Martini
2 Oz Martin Miller's Gin
4 Drops of Angostura Bitters
How To: Swirl the bitters in a chilled Martini glass, add the gin, and a twist of lemon for garnish.
Note: This is a slow sipping spicy cocktail with hints of nutmeg. This was first created by the British Navy in the 1870's.
Martin Miller's favorite holiday cocktail is a French 75, but as I am currently on a starving artist's budget, I made some adjustments: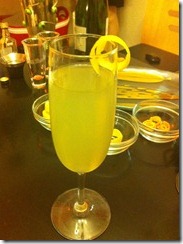 Starving Artist 75
Glass: Chilled Champagne Flute
1/4 oz Lemon Juice
1/4 oz Martin Miller's Gin
1/4 oz Torres's Orange Brandy
5 oz Cava
How To: Pour Lemon Juice, Gin, & Brandy in a shaker with ice. Shake well and strain into a chilled Champagne Flute. Pour in the Cava, garnish with a lemon slice
Notes: This is like a fancy meyer lemon pop! This was 1st created by me in my house this week, but inspired by a classic cocktail from the New York café in Paris in 1915.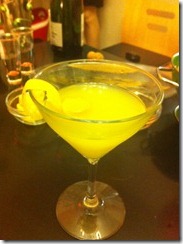 Orange Blossom:
Glass: Chilled Martini
How To: Pour ingredients into a shaker with ice, shake well, strain into a martini glass, garnish with an orange peel.1 1/2 oz Martin Miller's Gin
1/2 oz Orange Juice
2 Dashes of key lime juice
2 dashes of simple syrup.
Note: This is a medium bodied orange-centric cocktail with notes of honey and basil. This was featured in The Waldorf Astoria's Bar Book of 1935
Tip on Lemon Twists:
Use a nice sharp veggie peeler and peel off long constant strips
With a sharp knife cut the peel in to ribbons of what ever width best suits your cocktail.
Roll them in to tight spirals and let them set for at least 1/2 hr so that they save their shape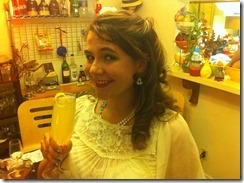 As always I would love it if you would share your stories regarding these recipes, and never hesitate to ask me questions.
Have a great Thanksgiving, and cheers to a nice glass of "Dutch Courage"!